Marine Fire Protection
Fire is the greatest threat out on the water. Professionals recommend what's know as the a 3-legged stool approach: Prevention, Detection and Suppression. Each one is important but all three are needed to provide complete fire protection onboard your vessel. Nearly all vessel owners have aids such as smoke alarms and fire extinguishers onboard. These are essential for detection and suppression but, they do not help with fire prevention. That's where we come in. Our FireShield material and long-lasting SPF 3000 fire retardant clear spray can be used to protect nearly all areas of your vessel from fire.
According to the BoatUS Foundation, the majority of onboard fires originate with electrical or engine issues. Routine checks and maintenance are a good first step to ensure fires don't originate onboard, inevitably though sometimes things are missed.
Sun Fire Defense's FireShield material offers 60 minute fire protection and near complete heat insulation to over 3000°F. It can be used to line engine rooms, electrical boxes, battery housings and other areas to prevent the spread of fires to other areas of the boat and contain damage, giving more time for help to arrive and detection and suppressions systems to take effect.
For larger vessels our FireShield material can also be used for dry insulation as well as for hydrocarbon fire protection of bulkheads and decks of major combat vessels and luxury yachts. Our material is easy and quick to install, there is no welding necessary like other bulkier solutions. All projects are custom quoted but costs average around $10 per square foot of protected area.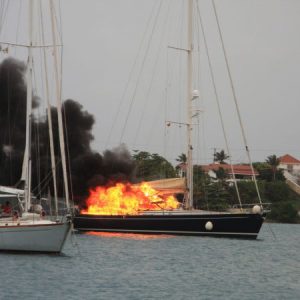 For fiberglass, decking, walls, carpet, non-flammable fabrics and foams, and nearly any other porous surface, there's SPF 3000 Clear Spray. It is a long-lasting interior/exterior fire retardant that is always in force even though it is virtually invisible. The formula penetrates and bonds with wood, fiberglass, and other porous materials insulating and creating a self-extinguishing reacting when treated material comes into contact with flames, preventing ignition and spread of fire. SPF 3000 Clear Spray is typically applied by spraying and is also available in concentrates that can be mixed into water-based paints and stains.
It dries clear and without residue, is non-toxic and non-carcinogenic once applied, and will not alter the structural integrity of wood or fiberglass materials. It should be spot tested on fabrics and colored materials before application. It has been rated Class "A" for ASTM E84 Standard for Construction Materials (flame spread 15 on unsealed Douglas Fir) and has passed NFPA 701 Standard for Films and Fabrics.
The formula also has inhibitors effective against rot, mold, mildew and termites. A single coat is generally considered fully effective and should be re-applied every 5 years for external or high-wear surfaces and every 10 years on inside surfaces. The cost is approximately $3 per square foot of protected area. Keep your vessel afloat and rest easy knowing you're prepared with Sun Fire Defense's fire prevention products for boats.




"Sun Fire Defense's coatings are a game changer in fire protection. I wish their products existed back when I was an active fire fighter. This is helping save homes and property."

– Will Spryison, 36 year firefighter, Division Chief of the US Forest Service, Angeles National Forest (Retired)